OUR STORY
Who says you should never work with family? Not us!
Handcrafting Superior-quality belts & buckles since 1998
World-class silversmith Paul Scibienski and his daughter Lisa have been working together in Arizona for over 20 years. This father-daughter team are involved in every aspect of the business from creative design to casting and hand polishing each buckle set. They take great pride in their work and customer satisfaction.
Working as a silversmith for over 40 years in Scottsdale, Arizona, Paul is known for his master craftsmanship in creating high-end contemporary buckles in Sterling Silver, Two-toned 14K gold overlay, brass and bronze, Silver-plated brass and 18K gold-plated sterling silver.
Only The Finest Quality Materials
Our buckles are fashioned on belts of the finest exotic skins such as calf leather, lizard, crocodile, ostrich, alligator, stingray, and are available in black, chocolate, peanut, and congac. All buckles are meticulously handcrafted and made-to-order by Paul and Lisa Scibienski.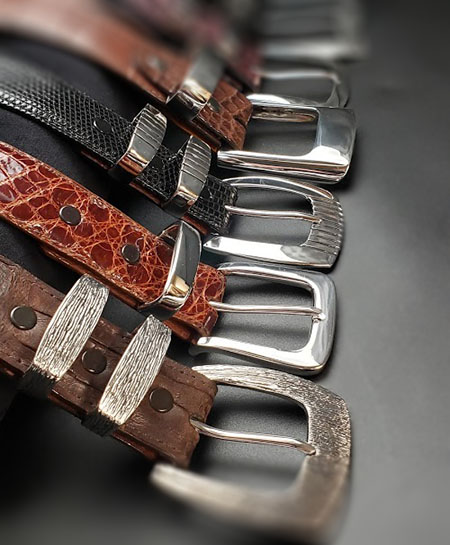 Contact Us
Call 480-342-9466
Email Us
kalifanobeltsandbuckles@gmail.com
©Kalifano Belts and Buckles. All rights reserved.